About Marko Ferek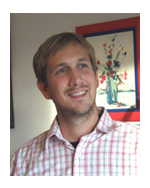 Hi, my name is Marko Ferek. My personal story is typical of anyone who has ADHD. I was a below average student. I had a short attention span, I day-dreamed a lot, was fidgety, and no matter how much I tried, I could not focus. Due to this I was often criticized, which lead me to loose all self-confidence. The inability to explain to myself why I had such problems in school, led me to believe that I was stupid.
At the age of 22 I accidentally found out about ADHD. As soon as I read about the symptoms I realized that I had ADHD. This was a big shock for me because I realized that I was not stupid, but that I simply had problems with concentration. I felt a huge urge to understand myself more because I knew I was unknown to myself. So I began self-research. I wanted to understand how I think, why I had complete focus at certain times, and was completely absent at others. I wanted to find and understand my deficit. My self-research lead me to an unexpected discovery, something I always felt inside but throughthe years stopped believing. I found out that I don't have a deficit, but a gift! Although I portray the symptoms of ADHD and therefore fall under the ADHD umbrella– I actually don't have ADHD. Symptoms of inattention, hyperactivity and impulsivity are not the result of my deficit, but a result of my creativity, my gift. I have a healthy and creative mind that creates ADHD-like symptoms. This was a revolution in my way of thinking. Then, out of the blue, I had a vision. I saw my mission – to explain people like me to the world, because this specific spectrum of creativity is still not recognized. I call them "hyperactive dreamers". Since then I dedicated myself to my mission.
I gave more than 250 talks to teachers, professionals, parents, and children. I also held presentations "Hyperactive dreamers – personal experience" in Orlando (CHADD Conference), Galway (Ireland, INCADDS organization), and various international conferences such as Ljubljana (Slovenia, BRAVO Organization), London (ADDISS Conference), Hong Kong (F.O.C.U.S. Organization), and Zagreb (Academy for Developmental Habilitation).
I am author of a best selling book in its field in Croatia called "Hyperactive dreamers – different, worse, better" translated in Hungarian (English version will be published in November 2011 ! ). As a guest I appeared many times on national TV shows, radio shows, in various newspapers and magazines.
I founded "Udruga Budenje" (organization for understanding ADHD) in Croatia whose purpose is to raise awareness about ADHD. It has more than 1000 members in Croatia. There are monthly meetings for parents, adults with ADHD, Skill Builders for children, and an informative web page www.budenje.hr
It is a member of ADHD-Europe organization www.adhdeurope.eu